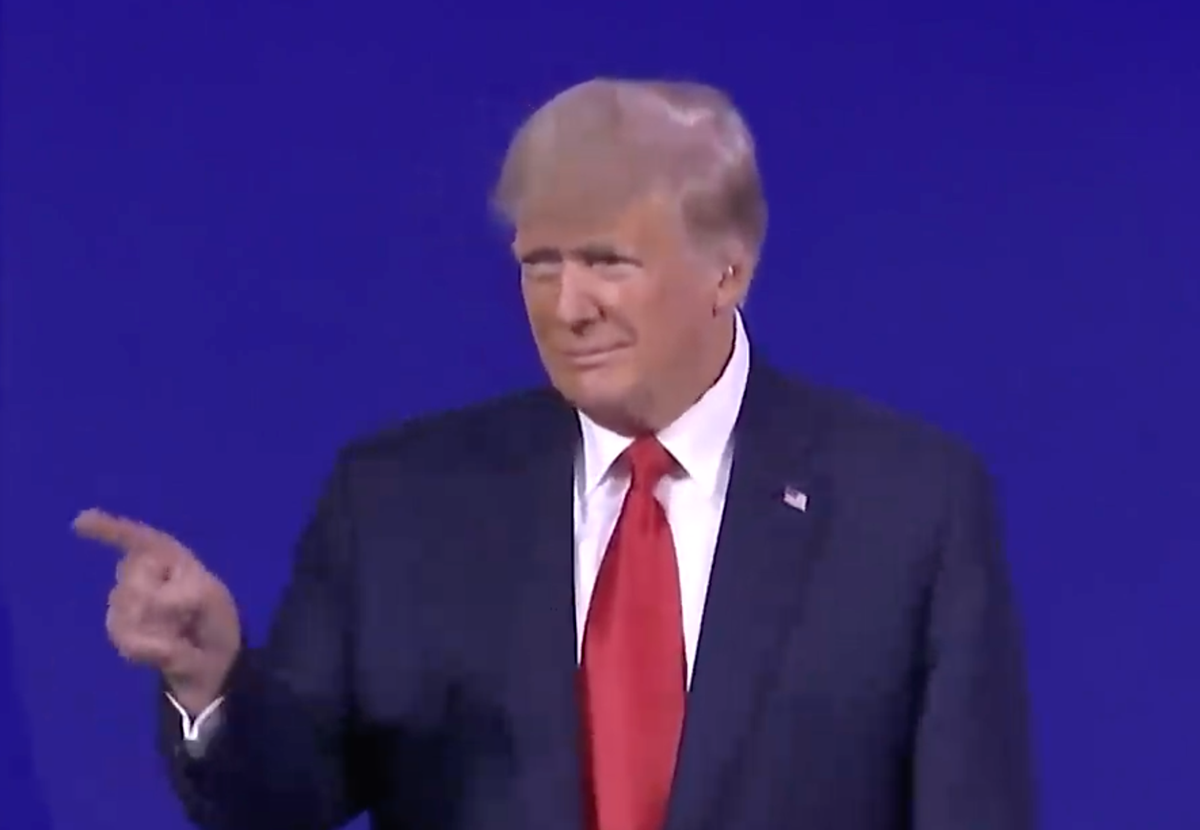 Donald Trump took the stage for his hotly anticipated speech at the Conservative Political Action Conference (CPAC) on Sunday and mocked trans people, slammed Democrats, and continued insisting he won the 2020 election.
"I won the first one. We won the second," the former president said. "What a disgrace to our country."
At one point, the crowd started chanting, "You won! You won!"
Mr Trump also played down speculation that he would start a new political party, but hinted that he might run again in 2024.
"Who knows, who knows, I may even decide to beat them for a third time, OK?" the ex-president said to the pumped up crowd.
Mr Trump also hammered the Biden immigration agenda throughout his speech, and warned the crowd that embracing civil rights protections for LGBTQ+ people via the Equality Act will mean "women's sports as we know it will die."
Mr Trump's remarks were criticised as transphobic for using derogatory terms for trans women and girls, like calling them "biological males."
President Joe Biden has said he will not be paying attention to his predecessor's speech in Orlando, Florida.
1614559074
Trump claims total credit for vaccines almost exactly a year after saying Covid would disappear 'like a miracle'
Donald Trump claimed total credit for the Covid-19 vaccines in a speech to the conservative CPAC conference in Florida almost exactly a year after saying the virus would disappear 'like a miracle.'
The ex-president said that his administration was responsible for a "modern day medical miracle" and that Republicans should get all the praise for fighting the coronavirus.
"As conservatives and Republicans, never forget that we did it, never let them take the credit, they don't deserve the credit, they are following our plan, this is something they call an absolute miracle," said Mr Trump.
Graeme Massie has more info on that one.
Josh Marcus1 March 2021 00:37
1614556910
That's a wrap on Trump's big CPAC speech
It's been nearly six weeks since Donald Trump left the White House and appeared before a crowd to deliver a speech.
And while the former Republican president was over an hour late on Sunday for his keynote remarks at the annual Conservative Political Action Conference (CPAC) in Orlando, Florida, he picked up right where he left off when he departed Washington, DC on 20 January.
Griffin Connolly breaks down all the most important moments from Mr Trump's big re-emergence.
Josh Marcus1 March 2021 00:01
1614555846
Trump barely mentioned Texas in his CPAC speech
Even as much of the country experienced record-breaking winter temperatures, and dozens in Texas alone died during statewide blackouts, Donald Trump's CPAC speech barely made mention of what happened. The closest he got was bashing windmills which "don't work when you need them."
A lack of attention wasn't a problem in Texas, where a state lawmaker broke down as she confronted officials from the state's energy supplier, Ercot, over numerous deaths during the catastrophic winter blasts last week.
Gino Spocchia has this dispatch from outside of the CPAC reality.
Josh Marcus28 February 2021 23:44
1614554518
It was bound to happen: Asking for money
Towards the end of his remarks, Mr Trump directed supporters to his website and his political action committee, which has been raking in hundreds of millions of dollars since after the election.
Josh Marcus28 February 2021 23:21
1614553996
Another member of the enemies list: Mitch McConnell
And the second big boo of the evening goes to Senate minority leader Mitch McConnell, who Mr Trump took credit for rescuing in his 2020 Senate race.
Josh Marcus28 February 2021 23:13
1614553712
Trump reads out his enemies list
Donald Trump speeches are always known for their big crowd-pleaser lines, and nothing has gotten a stronger reaction so far than the former president reading the names of those who voted for his second impeachment one-by-one, dismissing them as "hacks" and "grandstanders."
This in the same speech slamming cancel culture and valorizing political debate.
Josh Marcus28 February 2021 23:08
1614553577
Trump mocks transgender athletes in first speech since leaving office
Donald Trump mocked transgender athletes in his first major speech since leaving office.
The ex-president called transgender women athletes "biological males" and complained that records in women's sports were being "smashed" by transgender competitors.
Mr Trump complained that Joe Biden's policies "would destroy women's sports" and said that his own views on it were not "controversial."
Graeme Massie is following that one.
Josh Marcus28 February 2021 23:06
1614553379
And we've got another chant on our hands
The Trump base clearly still believes what the president is saying, that he is the rightful winner of the 2020 election.
After already chanting "We love you!" the crowd moved onto an even more direct one: "You won!"
The outpouring came as the president repeated many of his debunked claims about the election.
Josh Marcus28 February 2021 23:02
1614553067
Donald Trump still thinks he would've won 2020 election
The former president still believes that voting reforms put in place to make it easier to cast a ballot during the pandemic, such as mail-in voting, cost him the election.
"We must pass comprehensive election reforms." Mr Trump told the raucous crowd at CPAC on Sunday during his speech. "The Democrats used the China virus as an excuse to change all of the election rules, without the approval of their state legislators, making it therefore illegal. It had a massive impact on the election."
So much so, he believes, that he would've won in a landslide, rather than what happened.
"This alone would've easily changed the outcome of the election, at levels you wouldn't have even believed," he added.
Then, even after spending months of sowing distrust in the election system, and helping inspire a violent mob to attack the Capitol to stop the certification of the election results, the former president said the Republican party must become the party of "honest elections."
Josh Marcus28 February 2021 22:57
1614552438
Crowd breaks out in 'We love you!' chant during Trump CPAC speech
In case you're wondering how the Trump base feels about the former president, a chant of "We love you! We love you!" broke out during his CPAC speech on Sunday.
Safe to say they still love the guy.
Josh Marcus28 February 2021 22:47