G7 summit – live: Biden accuses Boris Johnson of 'inflaming' Northern Ireland tensions over Brexit
Related video: Biden tells USAF personnel in UK he'll tell Putin 'what I want him to know'
Joe Biden will deliver a Brexit warning to Boris Johnson in their first face-to-face meeting on Thursday ahead of the start of the G7 summit, telling the British prime minister not to imperil peace in Northern Ireland.
On his first trip abroad since taking office in January, the US president will meet Mr Johnson in Carbis Bay a day after talks between UK and EU officials ended without agreement.
"President Biden has been crystal clear about his rock-solid belief in the Good Friday Agreement as the foundation for peaceful co-existence in Northern Ireland," White House national security adviser Jake Sullivan told reporters on board Air Force One.
"Any steps that imperil it or undermine it would not be welcomed by the United States."
Such was Mr Biden's concern over Northern Ireland that Yael Lempert, the top US diplomat in the UK, issued London with a demarche – a formal diplomatic reprimand – for "inflaming" tensions, The Times reported.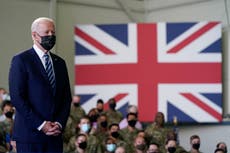 Rows over Brexit and aid threaten to overshadow Boris Johnson's first meeting with Joe Biden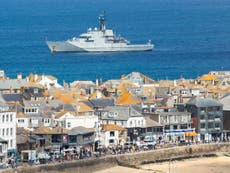 Rumours swirl and disquiet grows as locals says G7 is 'last thing Cornwall needs'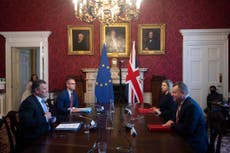 EU threatens to suspend parts of Brexit agreement and warns 'patience wearing thin'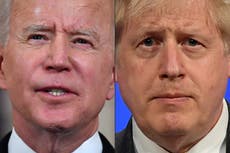 G7: Which leaders are attending, what will be under discussion and will there be protests?
1623321990
Travel industry criticises lack of detail in transatlantic plan
Plans to look at how transatlantic travel can be restarted safely have been dismissed by industry leaders as lacking "clarity".
Boris Johnson and Joe Biden will agree on Thursday to launch a taskforce to make recommendations on reopening international travel.
Virgin Atlantic chief executive Shai Weiss warned that the "absence of a definitive timeframe" means airlines, businesses and consumers have not been given "much-needed clarity".
British Airways boss Sean Doyle the industry was desperate for "action without delay, including clear criteria and a timeline. Anything other than this could result in tough consequences."
A spokeswoman for travel trade association Abta said there was "little in this announcement in terms of detail or timings".
Tom Batchelor10 June 2021 11:46
1623321270
Reaction to reports of White House Brexit warning
Tom Batchelor10 June 2021 11:34
1623320680
'Mount Recyclemore' made from waste in Cornwall
Tom Batchelor10 June 2021 11:24
1623319890
'Unprecedented rebuke' from US president over Brexit, says Starmer
Labour leader Sir Keir Starmer has said the US president delievered an "unprecedented rebuke" over Brexit negotiations in relation to Northern Ireland.
"And that comes on the back of months of chaos, of lack of preparedness and, frankly, the government misleading the public," he said.
"I've worked in Northern Ireland. I know what it means for those communities and the way the government is going about this is undermining the peace process.
"But it's now also undermining our relationship with America. So we need to make progress on this."
Speaking in Batley, West Yorkshire, Sir Keir added: "Just as the world is watching, we're in this situation in Northern Ireland.
"The government needs to make much more of an effort to settle this, to negotiate and get to a settlement for the people of Northern Ireland and for the world."
Tom Batchelor10 June 2021 11:11
1623319170
Man arrested over Falmouth bomb hoax
A 20-year-old man from Falmouth has been arrested on suspicion of a bomb hoax and has been taken into police custody after a hotel was evacuated as the world's media gathers in the Cornish town for the G7.
In a statement, Devon and Cornwall Police said: "Police were called at around 3.15am on Thursday 10 June following reports of a suspicious package having been located on the grounds outside of the Falmouth Hotel, Cliff Road in Falmouth.
"Following assessment from the Royal Navy Explosive Ordnance Disposal (EOD), the device was declared not viable and therefore safe.
"In order to maintain public safety, the area was evacuated as a precautionary measure and a 100-meter cordon was put in place.
"In total around 100 people were displaced, all of whom have since been allowed back and the 100-meter cordon has been removed. We would like to thank the public and those who were evacuated for their assistance.
"We currently believe that this was a suspected hoax incident and a criminal investigation has been launched.
"A 20-year-old man from Falmouth has been arrested on suspicion of a bomb hoax and has been taken into police custody."
Tom Batchelor10 June 2021 10:59
1623318701
Opinion | Of course Boris Johnson took a private jet to Cornwall – he doesn't give a damn what we think anymore
Scarcely a day goes by without Boris Johnson staging some sort of photo opportunity, writes Rupert Hawksley.
If he's not in a hard hat, he's holding a sausage, twiddling a knob or doing his best to break a tram (and more likely than not, a promise).
It's easier than actually running the country and, one assumes, is supposed to show that the prime minister is one of us, as comfortable in hi vis as a Hermes tie. Or, it turns out, a private jet.
Yes, here comes the man of the people… And here is the comment piece:
Tom Batchelor10 June 2021 10:51
1623318141
G7 nations must 'shoulder their responsibilities and vaccinate the world', says Johnson
Boris Johnson has called on G7 nations to "shoulder their responsibilities and to vaccinate the world" ahead of the summit which starts tomorrow.
The prime minister urged countries to put the pandemic "behind us" and focus on reducing carbon emissions, fighting the loss of biodiversity and getting another 40 million girls into school by 2025.
He wrote: "Wherever you look — the G7, Nato, the global struggle against COVID — Britain is the "buckle that fastens, the hyphen that joins" everything together, to adopt Walter Bagehot's phrase. We can do this because of the breadth of our capabilities and friendships.
"The UK can at once devise a vaccine against COVID, conduct nearly half of the world's genomic sequencing of new variants, bring the world's most powerful leaders to Cornwall, and send an aircraft carrier to the Indo-Pacific.
"But we would never wish to go it alone; on the contrary, we are blessed with alliances that help to keep us safe and advance our values. Now we are putting all of this to work for the benefit of the British people and to ensure this country is a force for good."
Tom Batchelor10 June 2021 10:42
1623317320
Extinction Rebellion plan 'street theatre actions' in St Ives and Falmouth
Climate protest group Extinction Rebellion is planning "street theatre actions" in St Ives on Friday and in Falmouth on Saturday.
The first in St Ives will see local climate activists "drowned in oil" in a "dramatic performance action to highlight the impact continued extraction of fossil fuels is having on the climate and ecological emergency".
The second protest in Falmouth will involve activists dressed as "old style cleaners and armed with mops and dusters" who will be scrubbing down the shop fronts of high street banks in a "theatrical performance designed to highlight the role of banks in the climate and ecological emergency".
Tom Batchelor10 June 2021 10:28
1623316590
US motorcade arrives in Cornwall
Tom Batchelor10 June 2021 10:16
1623316060
Sea shanties sung to celebrate 'culture of Cornwall'
Strolling down the Prince of Wales pier in Falmouth, local sea shanty group Bryher's Boys belt out a rendition of the traditional Cornish song "Lamorna" to the delight of onlookers, reports Reuters.
The 11 men, aged in their mid-50s to mid-70s, specialise in the traditional seafaring songs, which surged in popularity after a Scottish postman posted a performance of one on social media that went viral during the coronavirus lockdown.
Bryher's Boys were performing ahead of this weekend's G7 summit, which is being held near Falmouth, and before the International Sea Shanty Festival on 19 June – virtual this year due to the Covid-19 pandemic.
"Cornwall has a tradition of these sorts of songs," said band leader Trevor Brookes.
"The miners and the acoustics down in the mine helped choir singing, and that's where the traditional Cornish singing came from. And then … we're surrounded by the sea, so mariners, fishermen and all that, so it is a natural link for us to sing both those two genres."
He said sea shanties were once sung to galvanize sailors as they went about daily chores like raising the anchor and hauling in the sails.
"You had to get the men in unison, so they would have a shanty singer, and that sort of inspired that group singing together, and people like that."
Mr Brookes sees the G7 meeting of leaders of major developed economies as an opportunity to showcase the culture and traditions of Cornwall.
"There are so many things that could capitalise on that," Mr Brookes said. "The businesses, the maritime industries, the hospitality. But also the entertainment and opportunity to plug into the culture of Cornwall."
Sea shanties entered popular culture after postman Nathan Evans sang the 19th century "Wellerman" and posted the performance on TikTok last year.
A pop re-mix of his song reached number one in the UK music charts and he has reportedly been offered a record deal.
Tom Batchelor10 June 2021 10:07